Traffic is the lifeblood of any business's online presence. But figuring out the best strategies is something many people struggle with. They need help figuring out which ones to apply, and then apply those strategies consistently.
In Traffic Generation 101, you'll get a report, slideshow and graphics that introduce the most common traffic strategies used to bring visitors to websites.
It teaches why each strategy works, what it's best for, and some tips on how to implement it.
By sharing this report and teaching the basics to your prospects and customers, you'll be helping them take the first step towards setting up a solid traffic generation strategy – one that you can then help them implement through additional coaching or courses.
Take a look at everything you get:
[bcbox_report]
Introduction
Search Engine Optimization
Content Marketing
Email
Forums
Social Media
Advertising
Promotions/Giveaways
Affiliates
Offline
Advanced Traffic Generation Ideas
Conclusion
[bcbox_tools]
Report (The 10-part report 'Traffic Generation 101 – Top Ten Ways to get Traffic to Your Website')
Checklist (A Checklist of all of the steps outlined in the report)
Slideshow (79 slide PowerPoint presentation that covers the entire report with images)
Speaker Notes (Notes on each of the slides)
Infographic (Top 10 Traffic Generation Methods in .ppt and .jpg)
Graphics (In .ppt and .png that cover each part of the course)
Research Sources (A research list for the entire course)
Course Contents (A contents list document)
Editable eCover Templates (10 Designs in 2D psd, ready to convert to your own branded eCovers)
Instructions for using your new content
Screenshot previews of all your course components: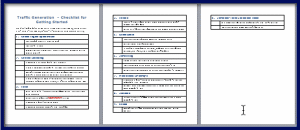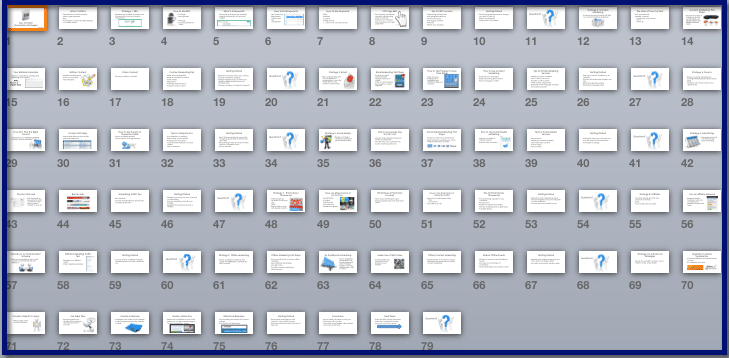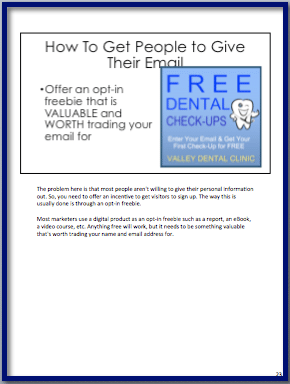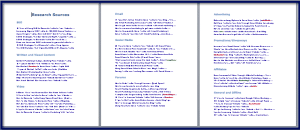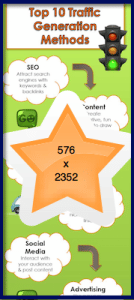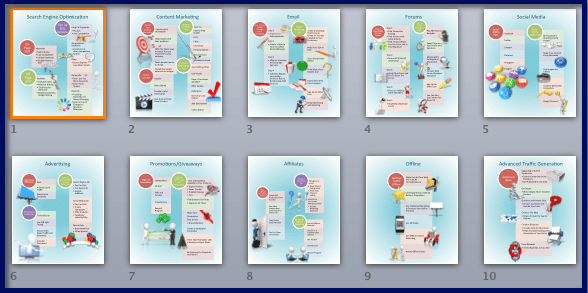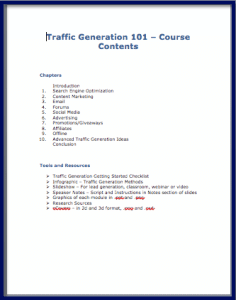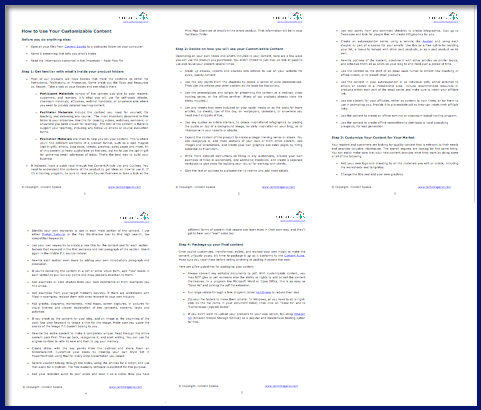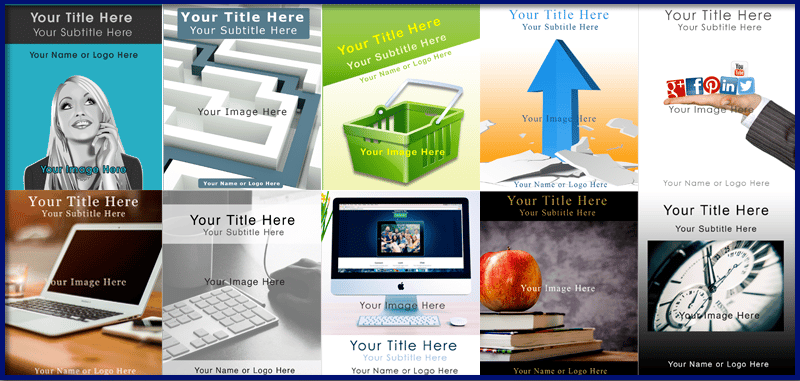 [bcbox_usingplr]

Some ideas for using and repurposing your content:
Use some or all of the content to build your list through squeeze page giveaways or as a printed report to hand to offline customers.
Share the visuals on social media or add to other content.
Use the infographic content on your blog for educating your readers.
Use the content as part of an autoresponder series that promotes an ebook or course, either your own or as an affiliate.
Customize and sell your own ecourse and follow it up with additional coaching or more in-depth training on each topic
Use sections of the content for an autoresponder series that pre-sells the entire pack, all combined as a paid ebook or course.
Use the slides for slideshare sites and then record those as videos to add to the content, or to drive traffic to your site via video sharing sites.
Rewrite the content and distribute on guest blogs and directories to establish yourself as an expert and drive traffic back to your site or to your own or an affiliate offer.
Hold a webinar, Hangout, or teleseminar and use the speaker notes in the slides as the basis for your script. Then follow up with paid coaching sessions that go into more detail about implementing what participants learned.
Add the content to your membership site to help people learn about this topic.
Combine the content with other content to create an even larger course or series of courses.
Use snippets of the content as social media updates to fill up your social media schedule or as tips of the day.
Use the content and tools for yourself and your clients or to learn more about this topic.
[bcbox_excerpt]
Want to see an article sample?  Here's a snippet from "Traffic Generation 101 – Search Engine Optimization":
Using Keywords

In years past, Internet marketers had complicated systems for using keywords that included calculating density, identifying secondary and tertiary terms, etc. Today, people aren't so concerned because the search engines are smarter. Their algorithms are more complex and they can find you. You only need to choose a few search terms to do basic SEO.

There are no hard and fast rules for using keywords, merely some general guidelines. It's good to use keywords in your titles and sub-titles. Generally, near the top of your content is a good place to put them, such as in your first paragraph. Use your keywords naturally in your website's written content, descriptions of images, and anywhere else you have text.
Please read our Content Rules to see what you CAN and CAN NOT do with your content.