Laser Focus:
Tips and Techniques for Improving Your Concentration &
Achieving More in Less Time

Every year it seems that our attention span goes down. People joke that they've developed attention deficit disorders as adults that they never had as children.
We're having more and more difficulty focusing on one thing at a time. And when we do start to focus, inevitably something pulls us away.
Everyone's always busy, but never seems to be able to get enough done!
If you're a working at all with entrepreneurs or small business owners, you'll know that a lack of focus is a huge issue. Those who are able to cut out the noise and concentrate on one thing at a time have the biggest success.
Luckily, there are all sorts of tricks you can teach others for improving focus and concentration. And we've covered a whole range of 'focus tips' in our 'done for you', customizable course – Laser Focus.
We know you're busy too, and don't have enough time to create all the content you need…. so we've done it for you.
Use our content to create your own, personalized lead magnet, bonus resource for your customers/clients/members, or paid product.
You can:
Edit it however you want,
Put your name on it, and
Sell or share it with prospects and customers.
Build your reputation as someone who can really help your customers and clients get results. By guiding them through ways to improve their focus every day, you'll be winning their thanks and watching their success take off!
Here's an overview of what you'll get in Laser Focus:
[bcbox_report]
There are 4 modules in the course, plus an introduction and a conclusion in which your participants do some action planning. Here are the topics you'll cover when you teach Laser Focus:
Introduction – Focus and Concentration: Start off by explaining why attention spans and the ability to focus have decreased, along with the huge impact this has on success.
Where is the Noise Coming From?: Explore the 4 dimensions of distractions and how they contribute to the 'noise' that kills our ability to focus.
Tips & Techniques to Improve Your Focus at Work: Identify 25 different tips that form a toolbox for improving focus and concentration, so that we can get far more done in less time.
Exercises to Improve Your Focus and Concentration: Offer 15 exercises that people can do regularly to improve their ability to concentrate. These are easy and can be practiced for just 5 or 10 minutes to see results.
Create Your Focus and Concentration Action Plan: Based on everything learned so far, guide people through creating their own calendar and action plan for improving their focus and concentration.
Conclusion and Next Steps: Finish up with a review of what was learned and more action planning, in which people identify their next steps and deadlines.
[bcbox_tools]
You'll receive a range of content that you can use to create a self-study course, handouts, learning resources, promotional content, lead magnets/opt-in gifts, and more. Also, be sure to repurpose the content to create webinars, video, emails, and any other content you need:
Laser Focus Course Book (7204 words, 27 pages)
Workbook (To use alongside the activities outlined in the report. 13 pages)
Graphics (2 graphics used in the report – .png & .ppt)
Summary Checklist (Covers all the key points of the course in an easy-to-use outline. 7 pages)
Infographics (Best practices and Mistakes to Avoid)
Resources List (A list of some suggested tools & apps to help improve focus)
Tweets (Tips about focus for sharing on any social media)
Editable eCover Templates (10 Designs in 2D psd, ready to convert to your own branded eCovers)
Instructions for using your new content
Take a peek at all the content you'll get with your license: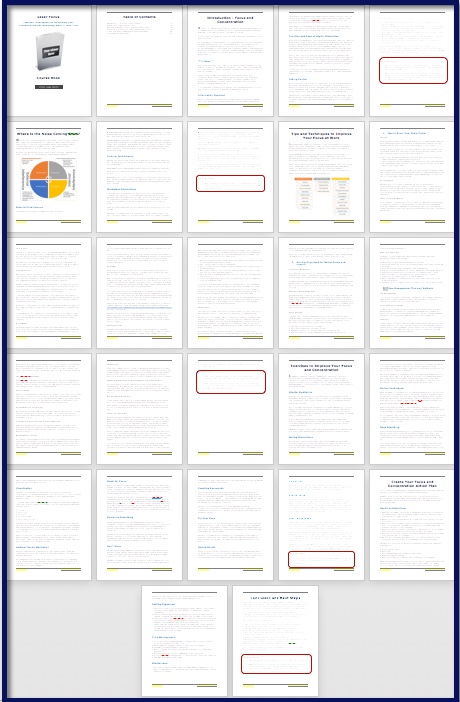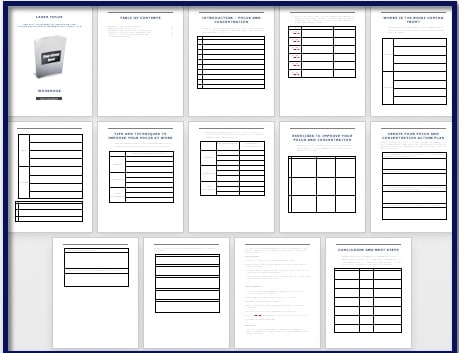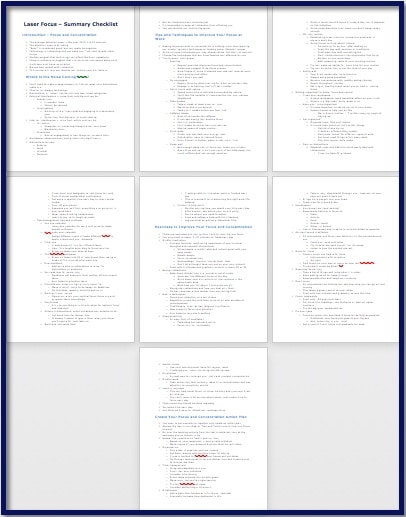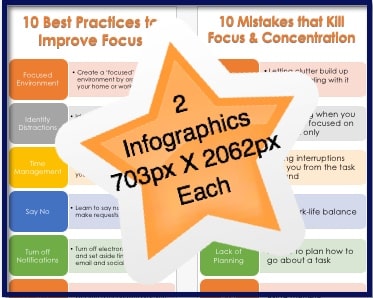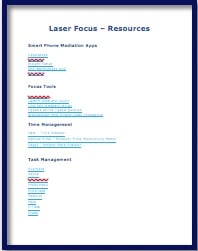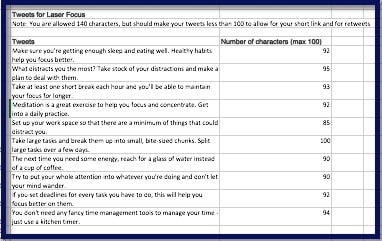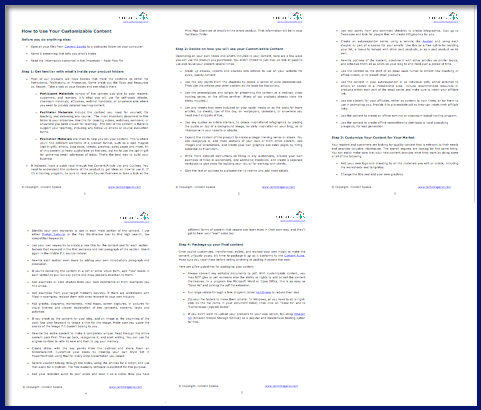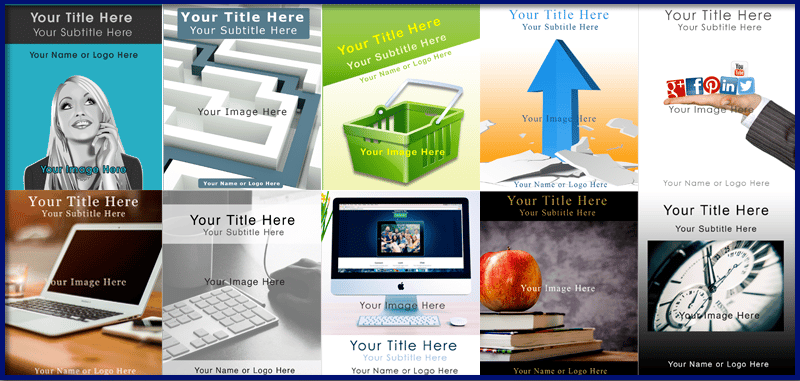 Contents of the course are delivered as editable .doc, pptx, and xls. eCover templates are delivered as .png and .psd
[bcbox_usingplr]
Other suggested uses for your Content:
Use as a free giveaway in exchange for contact details to build your list or build your relationship with your list.
Break up, edit, and use as content on your blog for educating your readers.
Use the content as part of an autoresponder series that promotes an ebook or course, either your own or as an affiliate.
Create and sell your own ecourse, using any tools, checklists or worksheets to help readers put what they learn into action.
Use sections of the content for an autoresponder series that pre-sells the entire report, all combined as a paid ebook or course.
Use key points in the report to create slides and then record those as videos you can use to drive traffic to your site via video sharing sites.
Use the list of tools to create a free giveaway to build your email list. People love lists!
Hold a webinar or teleseminar and use the content as a basis for creating your slides and script. Then follow up with paid coaching or consulting sessions that go into more detail about implementing what participants learned.
Add the content to your paid membership site as an additional resource.
Use any graphics, infographics or tweets to share on social media and either promote the rest of the course (paid or as a lead magnet) or just drive traffic to your site.
Use the content and tools for yourself to learn more about this topic.
[bcbox_excerpt] Want to see samples from this course?  Here's an excerpt from one section on "Tips and Techniques to Improve Your Focus at Work":
1. Tips to Boost Your Brain Power

Exercise

Studies have consistently shown that regular exercise significantly improves focus and concentration. The guideline usually given for exercise is to get enough exercise three times a week that you break into a sweat.

Actually, more moderate exercise more frequently can have an even more pronounced effect. There are many things you can do daily without much effort (no need to break into a sweat here) such as:

Going on a few short walks throughout the day (the motion of the walk itself can help you improve your focus as well).
Standing at your desk or taking a short walk around the office frequently.
Stretching before and after work, or in the morning after waking up and at night right before bed.

If you decide to start exercising, make sure that you do it moderately. Don't take a 2-hour walk the first day. Exercise until you can physically feel it and then stop for the day. Within a few days, you'll feel stronger and you'll be able to do more. Don't strain yourself.

Go Unplugged

The source of lack of focus is often the barrage of technological communications we face all day every day. A good way to regain focus is to unplug for a set period of time each day. Turn everything off and engage yourself in some activity that's not tech-related, such as reading a book, cleaning, going for a walk, etc. Give yourself some "quiet time" free of high-tech noise.
Please read our Content Rules to see what you CAN and CAN NOT do with your content.