Your first impression of someone may be hasty and incorrect, but it colors how you feel about them for years to come. It's very hard to wipe away the first thoughts and feelings you had about someone.
In First Impressions Matter you'll get the materials you need to teach your customers how to make a first impression that will help them build lasting, profitable relationships from Day 1.
What's included in the course…
[bcbox_course]
Introduction
Key 1 – Know and Be Known
Key 2 – How to Make People Like You
Key 3 – Gaining Trust
Conclusion – Next Steps
[bcbox_participant]
Course Book (All the information participants need for the 10-part course, contained in one ebook)
Course Work Book (Worksheets that people complete as part of the course's learning activities)
Infographic (Steps to Being Likeable – editable infographic in png and ppt)
[bcbox_facilitator]
Powerpoint Slide Presentation (First Impressions Matter – Slides ready to teach, present, or record.)
Speaker Notes (Use the text provided in the Notes section of the slides to guide your webinars, videos and presentations)
Course Overview (A birds-eye view of the entire course in Mind Map form)
Course Contents (A list of everything included in the course)
Instructions For Using Your New Content
Top Ways To Deliver Your Training (5 different ways you can deliver your training, and tips for implementing each)
Follow Up Emails (Emails to use to follow-up with your participants immediately after delivering the training)
[bcbox_promotion]
Blog Posts (5 Blog Posts on First Impressions)
Tweets (Tweets on First Impressions. Not just for social media!)
Promotional Opt-In Page (To promote the course as a giveaway for lead generation)
Promotional Video (In mp4 format, with splash image and background image)
eCover templates (Variety of designs in editable 2D psd, ready to brand for yourself)
Screenshot previews of all your course components:
Participant Materials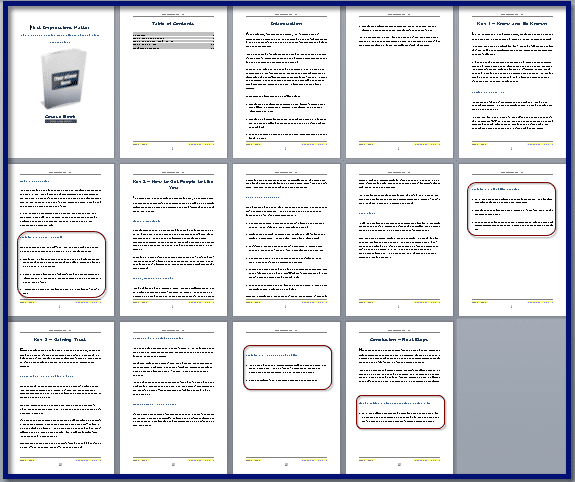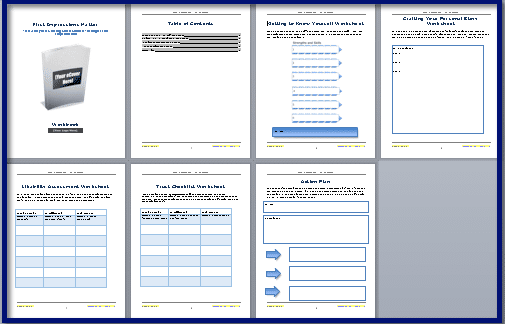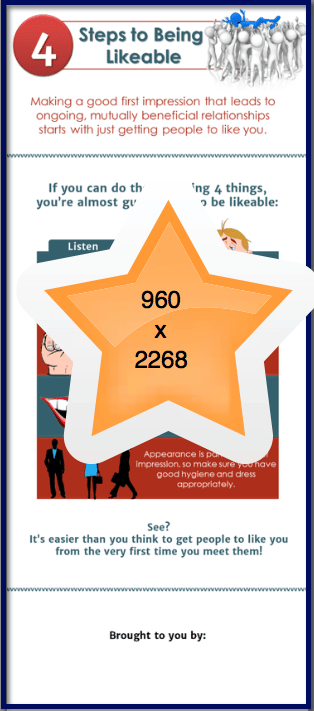 Facilitator Materials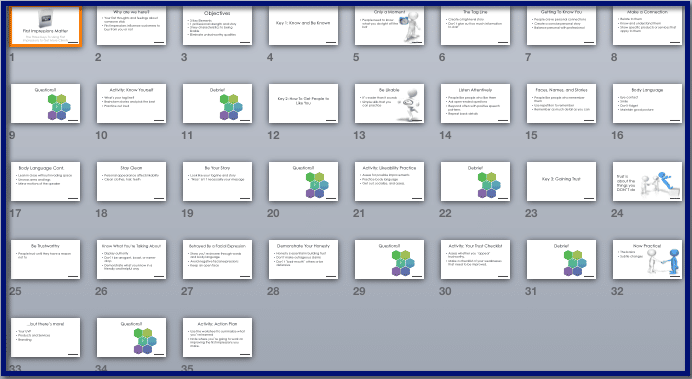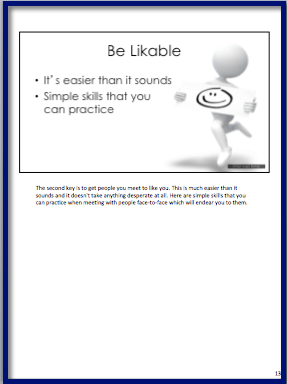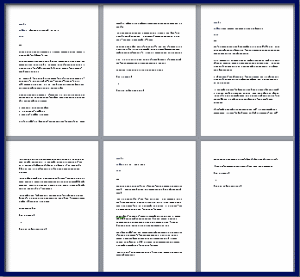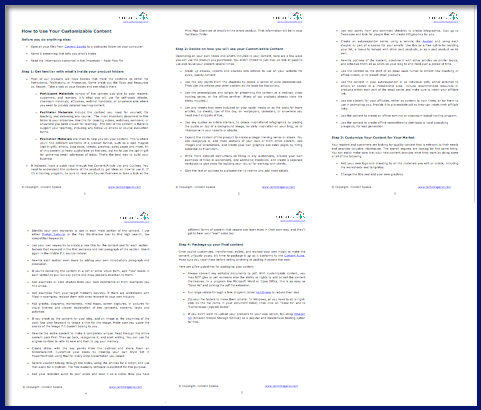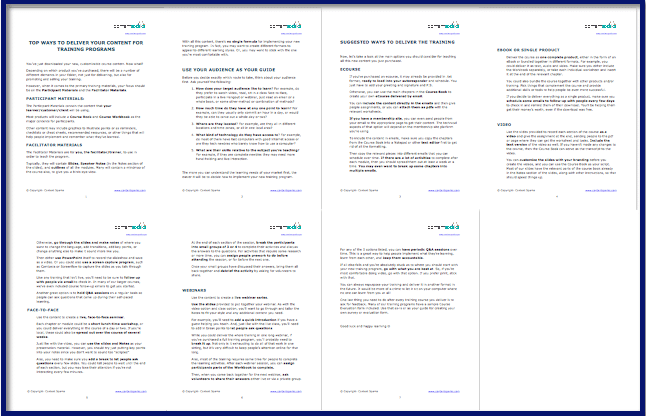 [bcbox_usingplr] Some ideas for using and repurposing your ready-to-go content
Use some or all of the content to build your list through squeeze page giveaways or as a printed report to hand to offline customers.
Share  visuals on social media or add to other content.
Use any  blog posts and infographic content on your blog for educating your readers.
Use the content as part of an autoresponder series that promotes an ebook or course, either your own or as an affiliate.
Customize and sell your own ecourse and follow it up with additional coaching or more in-depth training on each topic
Use sections of the content for an autoresponder series that pre-sells the entire pack, all combined as a paid ebook or course.
Use the slides for slideshare sites and then record those as videos to add to the content, or to drive traffic to your site via video sharing sites.
Use any outlines to rewrite the content and distribute on guest blogs and directories to establish yourself as an expert and drive traffic back to your site or to your own or an affiliate offer.
Hold a webinar, Hangout, or teleseminar and use the speaker notes in the slides as the basis for your script. Then follow up with paid coaching sessions that go into more detail about implementing what participants learned.
Add the content to your paid membership site to help people learn about this topic.
Combine the content with other content and ready-to-go content to create an even larger course or series of courses.
Use the tweets or snippets of the content as social media updates to fill up your social media schedule or as tips of the day.
Use the content and tools for yourself and your clients or to learn more about this topic.
[bcbox_excerpt]
Want to see an article sample?  Here's a snippet from "First Impressions Matter – Key 1 – Know and Be Known":
Getting to Know You

The most powerful kind of connection is a personal one. People crave personal connections. You need to quickly convey to people not only what you do, but who you are.   Like your tag line, create a story for yourself and pare it down so that it's clear, concise and fluff-free. Use your story to create a connection, but don't make it all personal. Balance the personal with the professional or your personal story may overshadow your professional first impression.
Please read our Content Rules to see what you CAN and CAN NOT do with your content.