Do Your Clients Know Just How Much of Their Marketing They Can Put on Auto-Pilot?
Use our content to quickly whip up  your own course to teach them how.
You'll be getting…
A passive income source that doesn't relay on 1:1 client time
A credibility-boosting course that skyrockets your reputation
A critical learning resource for your customers on a HOT topic!
It's not easy to create your own online courses, training programs, webinars, and workshops.
You have to research the topic, figure out what to cover, decide on a logical order, add in learning activities, write all the content, create all the slides, and put together all the emails and promotion materials too!
That wipes out a big chunk of your time AND your budget.
You don't have to do all that work yourself!
Our professional team of instructional designers, writers, and graphics creators have applied our 20+ years of experience to put together all the content you need.
When you purchase a license for our content, you can:
Edit it any way you want,
Add your name and logo, and
Start selling or sharing it with your clients and customers.
So stop putting off or playing around with the idea of creating a course. We've done the hard part so you can dive right in.
There's no need to start from scratch or stare at a blank page.
And our ready-to-go course on How to Automate Your Online Marketing  is a HOT topic that all the really successful businesses know how to do. Your clients want and need to learn how to automate as much as possible.
Here's what you'll get in How to Automate Your Online Marketing:
[bcbox_course]
Module 1: Introduction – How Automation Helps Your Online Marketing

You'll start by discussing the meaning of the term 'marketing automation' and all the benefits for your business. The biggest benefit is usually time, but you might be surprised at some of the others.

Module 2: What is the Goal of Your Marketing Automation Strategy?

In order to create an automation strategy, marketers need to understand what they hope to accomplish first. In Module 2, you'll talk about different types of goals they might want to achieve and how they line up with the sales process.

Module 3: Social Media Automation

Social media can be one of your biggest time drains, sometimes with the lowest ROI. In Module 3, you'll look at how to cut the time spent on social sites, automate different aspects, but still keep social media marketing highly personal.

Module 4: Email Marketing Automation

Email is the heart and soul of many businesses, especially when it comes to developing relationships with both leads and customers. In Module 4, you'll discuss how to automate many aspects of email marketing so that your students can do a better job of converting leads to customers and retaining the customers they already have.

Module 5: Content Marketing Automation

Content creation is something that's often pushed to the side because marketers 'don't have enough time', but content marketing is also a key part of building credibility online. In Module 5, you'll be looking at both ways to automate some of the marketing side of content, as well as tools that will speed up content creation.

Module 6: Customer Follow-Up Automation

Your current customers are your best source of repeat sales and additional revenue, but most marketers probably aren't taking advantage of all the automation available for making this happen. In the last module before you finish up, you'll explore some powerful tactics and tools for using automation in ongoing customer relationship-building.

Conclusion

By this point, you've discussed some astounding ways to use automation that will make an enormous impact on your students' business and their life. In the concluding module, you'll have them spend time putting it all together by building their personal automation plan and identifying their next steps.
[bcbox_participant]
44-page Course Book – self-study content and activity instructions
12-page Course Workbook (worksheets for completing the learning activities)
Course Graphics & Screenshots – Graphic Models of Key Concepts
Summary Checklist
Infographic – The Ten Commandments of Marketing Automation
Slides Handout
List of Tools

[bcbox_facilitator]
87 Slides – for classroom, webinar or video
Speaker Notes – script and instructions in Notes section of slides
Facilitator Guide – additional instructions plus all slides and notes
Course Evaluation Form
Research Sources
Course Follow-up Emails (5 emails for following up with participants after the course)
Mind Map Overview of Course
Top Ways to Deliver Training Programs
Instructions for Using Your New Content
List of Research Sources
[bcbox_promotion]
21 Ways to Automate Your Marketing – Opt-in report
Opt-In Report Summary Checklist
Promotional Opt-In Report Slide Show
Opt-In Page – html page plus separate doc with Sales Copy
Follow-up Emails – 5 emails for following up after the short report
Infographic – 10 Ways You Can Use Automation to Save Time
Blog Posts – 5 blog posts about Marketing Automation
30 Tips –  In tweet-friendly length for use in social media
Sales page – html page plus separate doc with sales copy
Editable eCover Templates (10 Designs in 2D psd, ready to convert to your own branded eCovers)
How to Automate Your Online Marketing

£147.00Add to cart
Screenshot previews of all your course components:
Participant Materials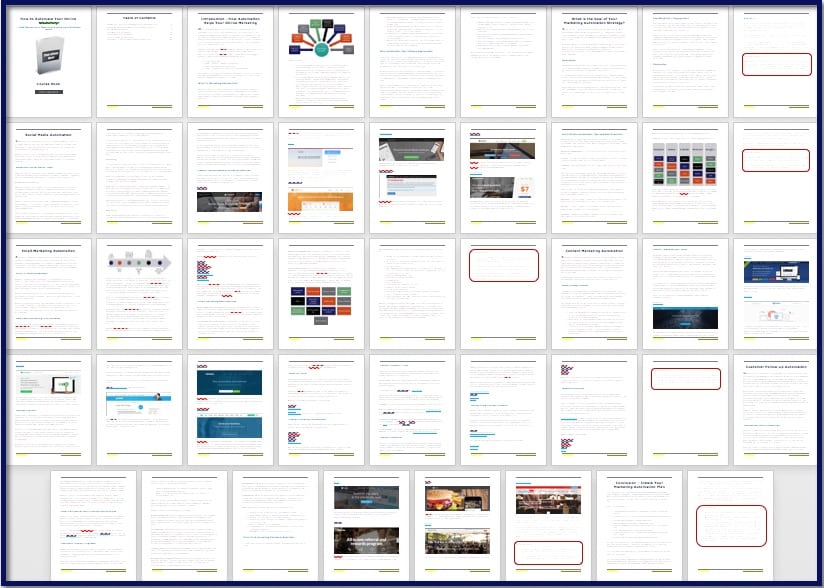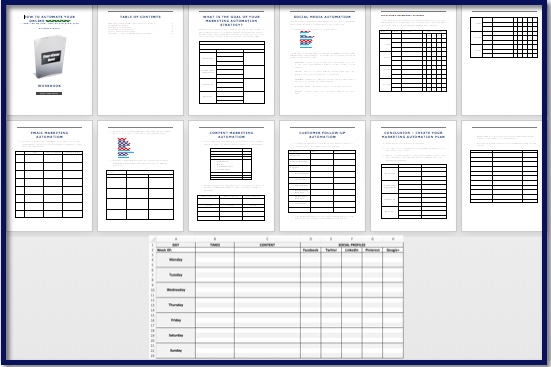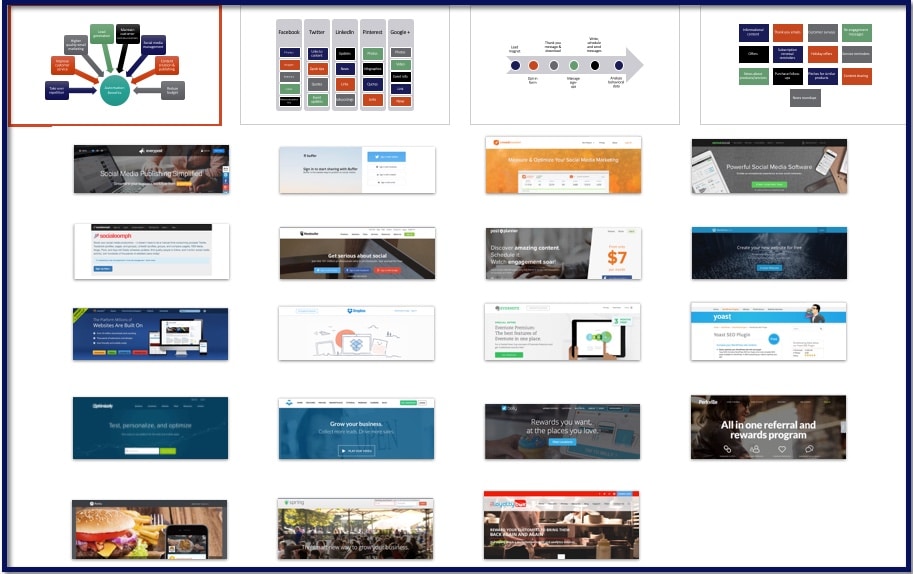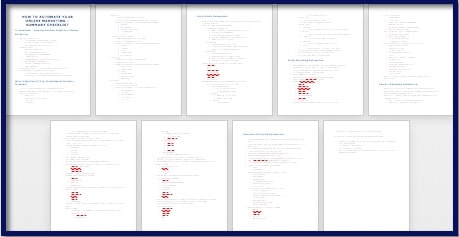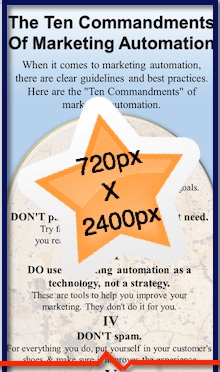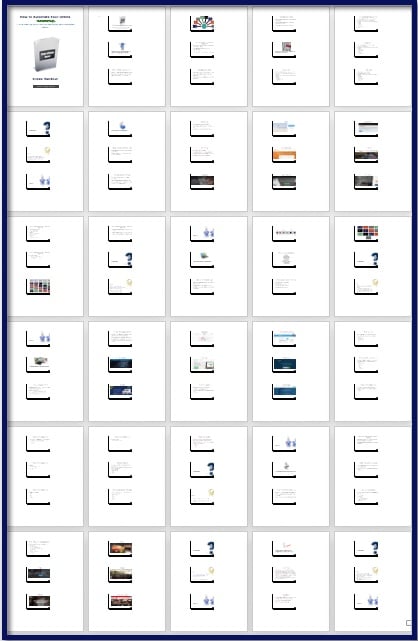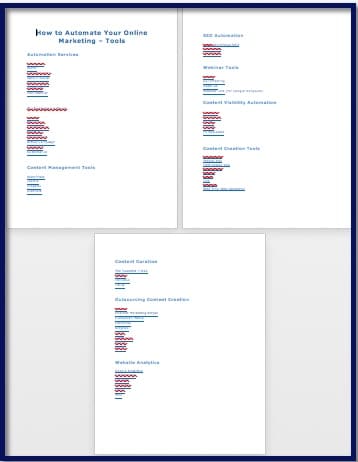 Facilitator Materials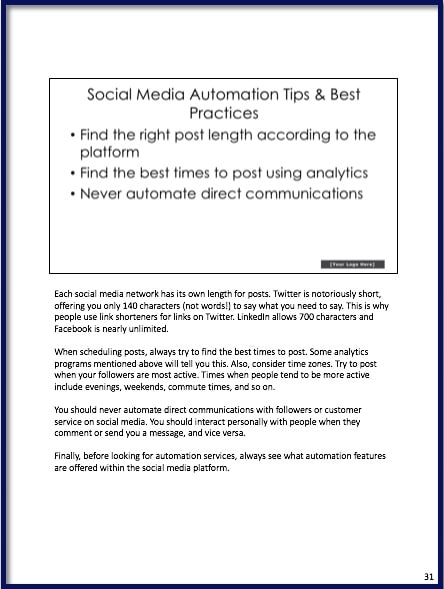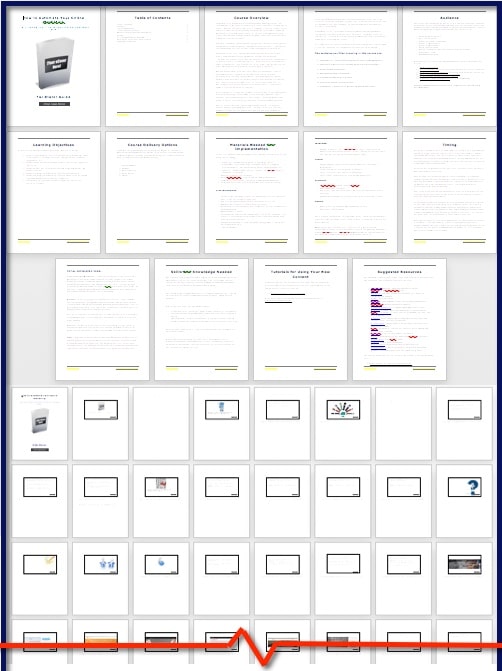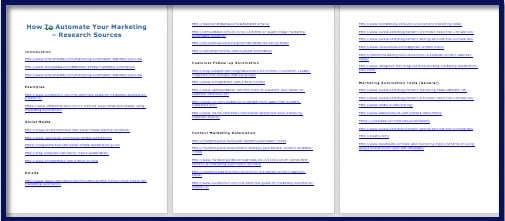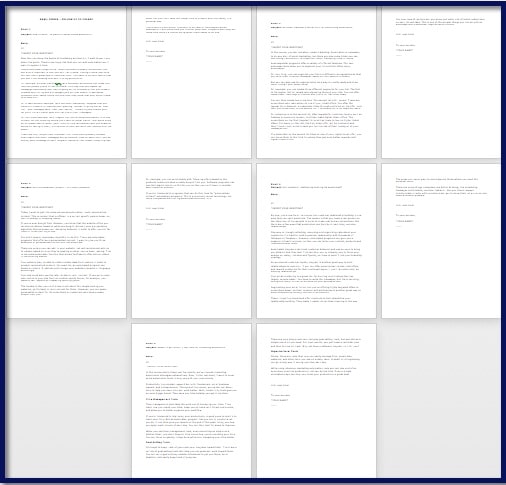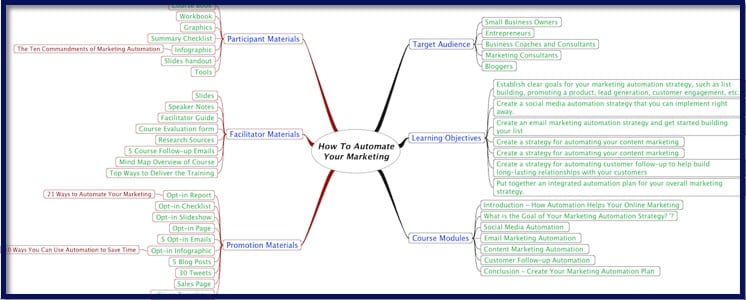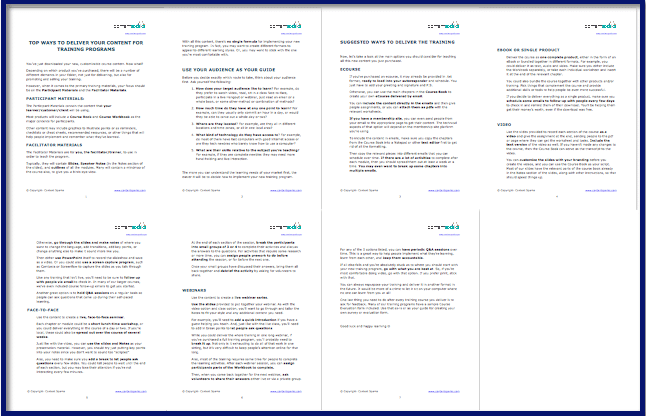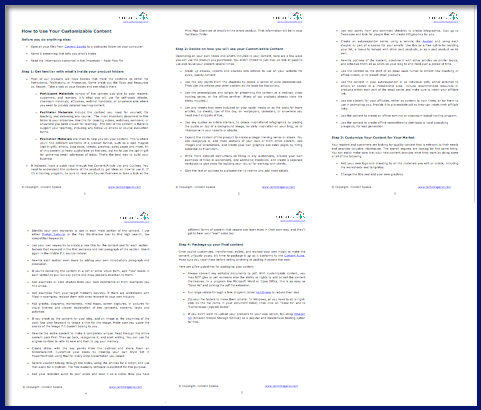 Promotional Material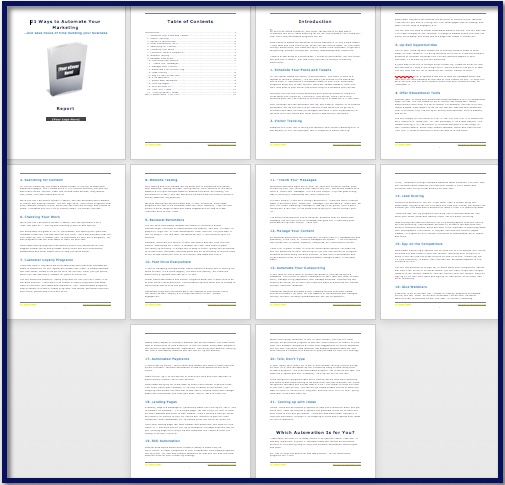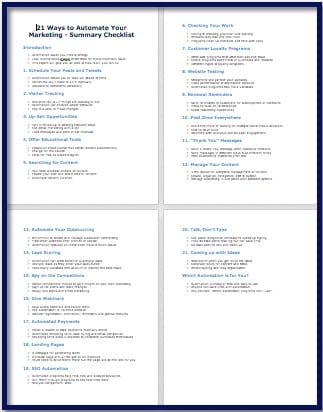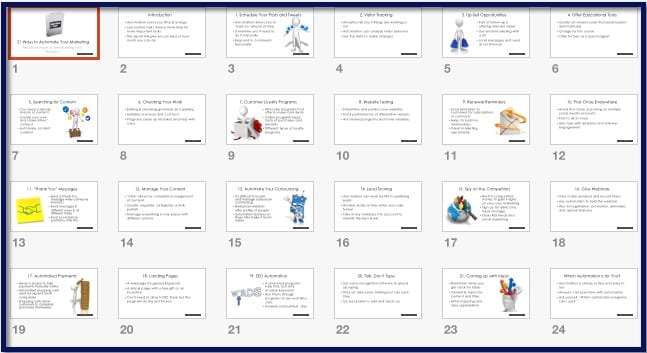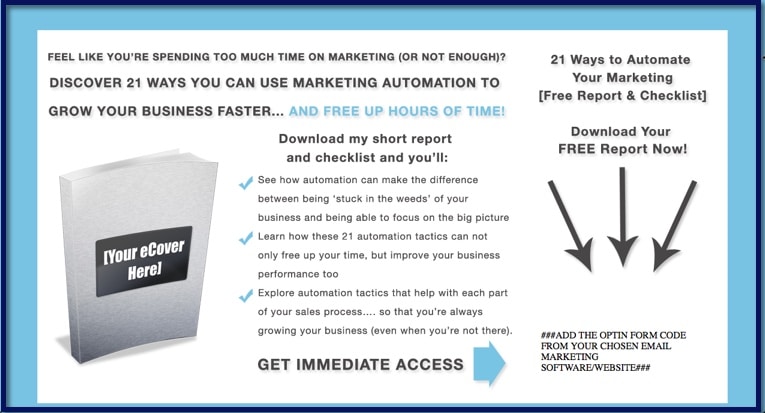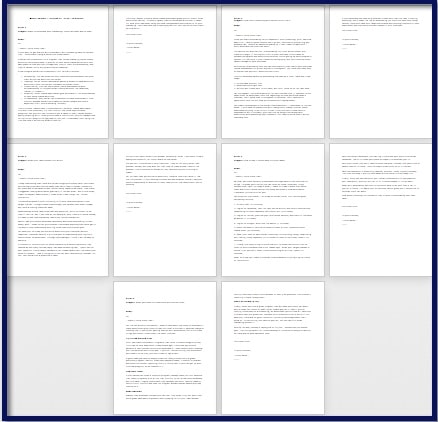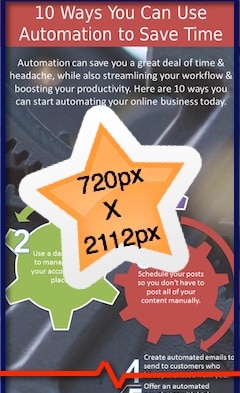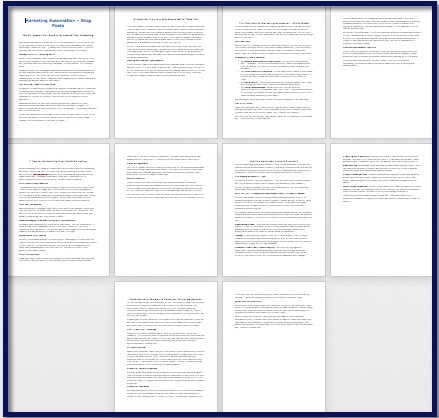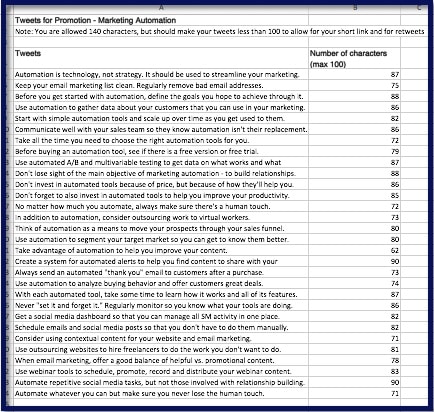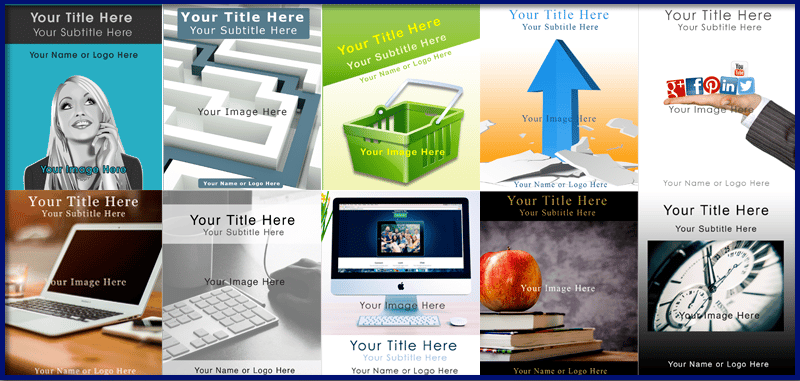 [bcbox_usingplr]
Some ideas for using and repurposing your content
Use the short report or sections of the content to build your list through squeeze page giveaways or as a printed handouts to give to offline leads and customers.
Share the visuals on social media or add to other content.
Use the blog posts and infographic content on your blog for educating your readers.
Use the content as part of an autoresponder series that promotes an ebook or course, either your own or as an affiliate.
Customize and sell your own ecourse and follow it up with additional coaching or more in-depth training on each topic
Use sections of the content for an autoresponder series that pre-sells the entire pack, all combined as a paid ebook or course.
Use some of the slides for slideshare sites and then record those as videos to add to the content, or to drive traffic to your paid course via video sharing sites.
Use the outlines to rewrite the content and distribute on guest blogs and directories to establish yourself as an expert and drive traffic back to your site or to your own or an affiliate offer.
Hold a webinar, Hangout, or teleseminar and use the speaker notes in the slides as the basis for your script. Then follow up with paid coaching sessions that go into more detail about implementing what participants learned.
Add the content to your paid membership site to help people learn about this topic.
Combine the content with other customizable content to create an even larger course or series of courses.
Use the tweets or snippets of the content as social media updates to fill up your social media schedule or as tips of the day.
Use the content and tools for yourself and your clients or to learn more about this topic.
[bcbox_excerpt]
Want to see an article sample? Here's a short excerpt from "What is the Goal of Your Marketing Automation Strategy?":
Before you start considering ways to automate your business, you first have to decide exactly where your priorities are. It's important to create specific goals and make an automation strategy. Once you do this, it's easy to figure out exactly what you need automated and how you're going to go about doing it.

The way to do this is to identify which parts of the sales process you want to automate, and exactly what goals you hope to achieve. Broadly speaking, there are four key phases of the sales process: Awareness, Consideration/Engagement, Conversion and Retention. Let's consider each of these separately.

Awareness

The awareness phase of the sales process is where you spread awareness of your brand to potential customers. The idea during this phase is to simply get the word out and lead people to want to find out more.

At the awareness stage, you don't have customers yet. You have website visitors, store foot traffic, people watching advertisements, and so on. These people are coming into contact with your brand and your content for the first time. They're exploring, not buying.

Things that you might automate in order to spread awareness of your brand could be blogging, social media, keyword placement, driving web traffic, forms on your website where visitors can sign up for your email list, and so on.
How to Automate Your Online Marketing

£147.00Add to cart
Please read our Content Rules to see what you CAN and CAN NOT do with your content.