Thanksgiving Special *5-for-1 Challenge Kits*
Get 5 Ready-to-Run Challenges for the Price of 1
4 DAYS ONLY –

November 27th to 30th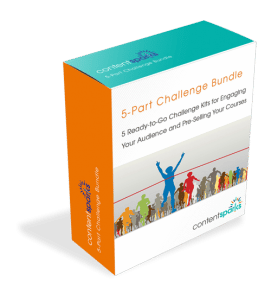 Plus get
50% off on related courses

from the Content Sparks library

If you sell any type of problem-solving product, course, or service, then you know there's one big obstacle we all face:
Motivating customers to TAKE ACTION!
That's where running some type of time-based challenge can have a huge impact on success. And not just the success of your customers, but also the growth of your business.
Customers who see results come back for more and spread the word about how much you helped them.
A 'challenge' in this sense of the word is a series of actions that your participants take every day for a set period of time. You tell them what to do each day, they take that mini action, and you continue to motivate them until they see the targeted results.
In our 5-Part Challenge Bundle, you will get 5 Ready-to-Go Challenge Kits for engaging your audience and pre-selling your courses.
These ready-to-go challenges are NOT AVAILABLE for purchase separately.
And when you purchase the 5-for-1 bundle of challenges, you'll even get this BONUS: The 5 Most Common Business Writing Mistakes and How to Avoid Them. 
Your challenge kits include all the materials you need to run 5 separate 5-Day challenges and pre-sell different courses from the Content Sparks library. Or customize the content and sell courses on the same topic.
Here's a summary of what you'll get in each challenge in this bundle:
*** The 'Thanksgiving Special Challenge Bundle' disappears November 30th at 11:59 pm (Pacific). Not available for purchase at any other time. Challenge kits not available for sale separately.
---