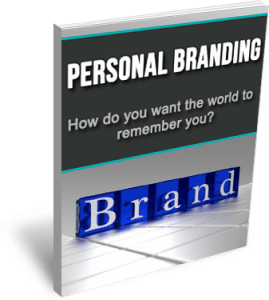 Our Personal Branding PLR Pack contains both articles and tools for understanding personal branding and creating your own brand. Branding is a critical component of any marketing plan and can be a determining factor in your business success. It's what helps you stand out from your competition while guiding all your priorities and energy. Help your readers, customers and clients develop their personal brand with all the components of this pack.
Limited: Only 150 will ever be sold
The Personal Branding PLR pack contains the following:
Articles:
The Importance of Building Your Own Personal Brand (477 words)
5 Key Characteristics of a Stellar Personal Brand (485 words)
Branding Your Social Media Profiles – The Rules (525 words)
Do You Need a Personal Blog? (568 words)
Should You Be Yourself? Your Personality and Your Personal Brand (519 words)
8 Creative Ways to Brand Yourself (568 words)
Tips on How to Brand Your Emails for Maximum Impact (507 words)
How to Create a Branded Resume (505 words)
The Steps for Setting up Your Own Personal Brand System (593 words)
Should You Outsource Your Personal Branding? (579 words)
Tools and Resources:
Worksheet for Creating Your Personal Brand
Instructions for Completing the Personal Brand Worksheet
Examples of Famous People's Personal Brands
Examples of Personal Mission Statements
Article Outlines (for rewriting)
All Articles Combined (ready to make into an ebook)
Tips for How to Use Your PLR Pack
Complete Pack: Only $12

Click here to add these articles to your shopping cart
Other suggested uses for your Personal Branding PLR Pack:
Use as content on your blog for educating your readers about personal branding and how to create their own brand.
Use the content as part of an autoresponder series that promotes a personal branding webinar or ebook.
Create an ecourse for teaching clients how to create their own personal brand. Walk them through the personal branding worksheet so they have a completed plan at the end of the course.
Use the worksheet, instructions and examples for one-on-one coaching sessions and use the articles as part of a coaching membership site
Use sections of the articles for an autoresponder series that pre-sells the entire pack, all combined as a paid ebook with workbook.
Use the outlines to rewrite the articles and distribute on guest blogs and directories to establish yourself as an expert in social media. Link to your own or another social media training program to earn commissions.
Hold a webinar or teleseminar on how to create a personal brand. Then follow up with paid coaching sessions using the worksheet and instructions.
Add the content to your membership site
Use them for yourself for developing your own personal brand.
Want to see samples from this pack? Here's an excerpt from one article about characteristics of a personal brand:
The rise of social media has made it more important than ever to have your own personal brand. Like a product brand, your personal brand tells people who you are and what value you bring to the world. Your personal brand is your reputation and it's essential to take control of it, whether you're a growing business or a job hunter. There are 5 key characteristics that it needs to have.

1. Consistent

All of your actions should be consistent with your brand image. You'll become known for something that you always do and you shouldn't stray too far from it. When you're consistent, it shows that you're reliable, and this helps to establish your credibility. When you're inconsistent, this creates a disconnect that's not conducive to branding. Although you should be consistent, remember that your personal brand isn't static. It should evolve over time.
Here are some screenshots of the worksheets and instructions: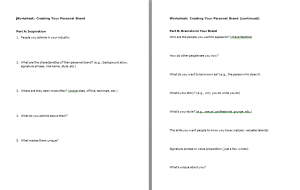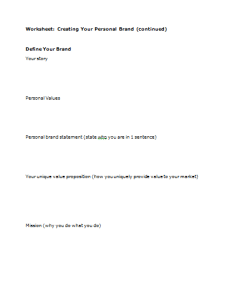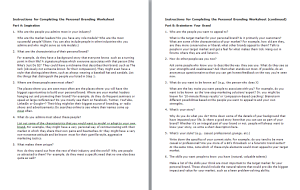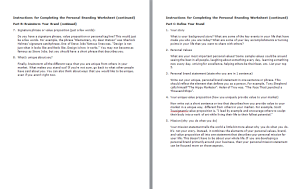 Please read our PLR Rules to see what you CAN and CAN NOT do with your private label rights content.