Power Networking with LinkedIn Groups:
Supercharge your authority and attract new leads

There are nearly 2 million Groups on LinkedIn and they are one of the easiest ways to tap into the power of this massive professional network to build relationships and expand your reputation.
However, most people don't know how to use LinkedIn Groups effectively. Many still just use LinkedIn as a place to post their career history and experience. What a waste!
You can teach people the right way to use LinkedIn Groups
….so that they take advantage of all the opportunities to grow their business with this network of over 433 million users.
It's simply a matter of putting together a step-by-step report or course to guide them.
Don't have time to create your own content?
Just use our 'done-for-you', rebrandable content to create your own LinkedIn Groups course.
You can customize it for your market, put your name on it, and create your list-building freebies, webinars, email courses, video series, live presentations, membership content, and more!
You'll save days of time and thousands of dollars when you don't have to create your content from scratch or outsource it.
And just think about how much faster you'll grow your business when you have more content out there working for you!
Our expert researchers, instructional designers, and writers have done the most time-consuming work for you. Now you just have to put your personal spin on the content and share it with your clients, customers, or members.
Here's an overview of what you'll get in Power Networking with LinkedIn Groups:
[bcbox_report]
There are 6 modules in the course, as well as an introduction and a conclusion in which your participants do some action planning. Here are the topics you'll cover when you teach Power Networking with LinkedIn Groups:
Introduction – A quick overview of the course and what people will learn.
Expand Your Network and Grow Your Business– All the benefits of using LinkedIn Groups, both as a participant in relevant Groups and managing a Group of your own.
Create an Effective Profile – Other Group members will look at your profile, so here's where you'll teach people how to create one that stands out for ideal clients.
Target the Most Beneficial LinkedIn Groups – A LinkedIn Group is only as valuable as the other members. Here you'll teach people how to pick the right Groups for their goals.
Use Groups to Build Relationships – LinkedIn Groups are also only as valuable as the effort you put in. In this module, you'll teach people how to participate with relationships in mind.
Build a Prosperous LinkedIn Group of Your Own – Running your own Group can be a powerful way to spread brand awareness and credibility, so in this module you'll cover the basics of starting an active Group.
Common LinkedIn Mistakes to Avoid – There are common mistakes that everyone makes with Groups. Here you'll cover the major ones to avoid.
Conclusion – Create Your Action Plan – Before you send your people off on their own, you'll take them through a brief summary, final reminders, and some action planning.
[bcbox_tools]
You'll receive a range of content that you can use to create a self-study course, handouts, learning resources, promotional content, lead magnets/opt-in gifts, and more. Also, be sure to repurpose the content to create webinars, video, emails, and any other content you need:
LinkedIn Groups Course Book (6637 words, 29 pages)
Workbook (To use alongside the activities outlined in the report. 18 pages)
Graphics (2 editable graphics used in the report – .png & .ppt)
Summary Checklist (A summary of all the key points from the course, in checklist format)
Infographics (Best practices and Mistakes to Avoid – editable .ppt and .jpg)
Tweets (Tips about LinkedIn Groups for sharing on social media)
Editable eCover Templates (10 Designs in 2D psd, ready to convert to your own branded eCovers)
Instructions for using your new content
Take a peek at all the content you'll get with your license: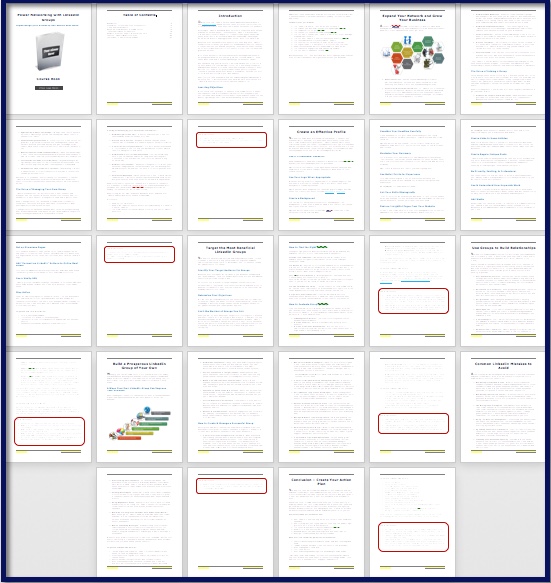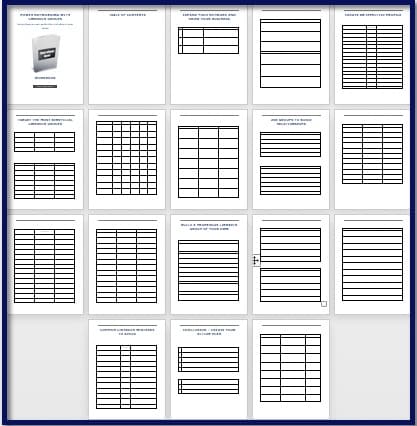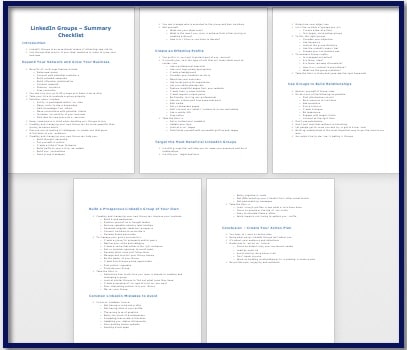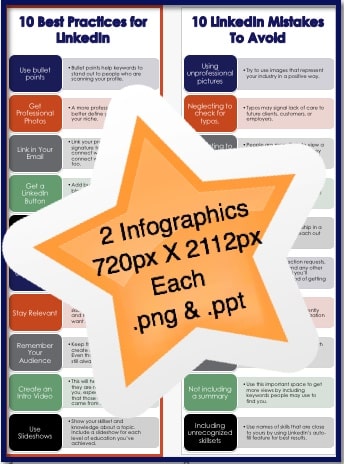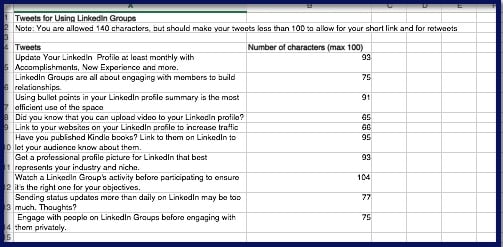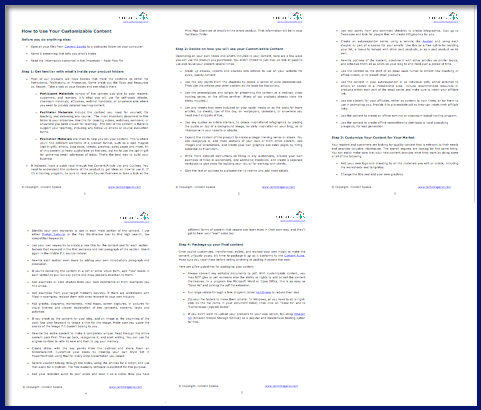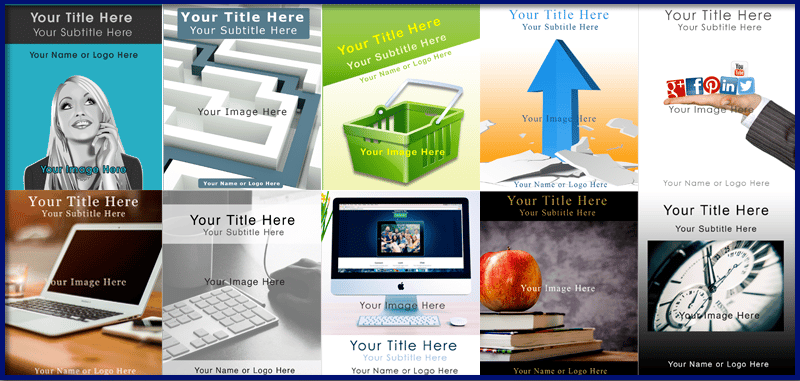 Contents of the course are delivered as editable .doc, pptx, and xls. eCover templates are delivered as .png and .psd
[bcbox_usingplr]
Other suggested uses for your Content:
Use as a free giveaway in exchange for contact details to build your list or build your relationship with your list.
Break up, edit, and use as content on your blog for educating your readers.
Use the content as part of an autoresponder series that promotes an ebook or course, either your own or as an affiliate.
Create and sell your own ecourse, using any tools, checklists or worksheets to help readers put what they learn into action.
Use sections of the content for an autoresponder series that pre-sells the entire report, all combined as a paid ebook or course.
Use key points in the report to create slides and then record those as videos you can use to drive traffic to your site via video sharing sites.
Use the list of tools to create a free giveaway to build your email list. People love lists!
Hold a webinar or teleseminar and use the content as a basis for creating your slides and script. Then follow up with paid coaching or consulting sessions that go into more detail about implementing what participants learned.
Add the content to your paid membership site as an additional resource.
Use any graphics, infographics or tweets to share on social media and either promote the rest of the course (paid or as a lead magnet) or just drive traffic to your site.
Use the content and tools for yourself to learn more about this topic.
[bcbox_excerpt] Want to see samples from this course?  Here's an excerpt from one section on "Target the Most Beneficial LinkedIn Groups":
Now that you have created, updated, and optimized your profile, it's time to identify Groups that will help you increase your exposure and build relationships with target clients. In this module, you'll learn how to identify the right Groups for your needs.

Identify Your Target Audience for Groups

More than likely, during the startup phase of your business, you identified your target audience. If not, you need to do that now. You may then identify two types of targets for Groups to join.

For example, you may want to target competitors or complementary business owners. They usually serve the same or similar audience as you do. Then you can join their Groups. Plus, you may want to join Groups with like-minded professionals for support.

Determine Your Objectives

In order to target the best Groups for your needs, note your key objectives. Do you want to build your brand, connect with potential clients, spread your knowledge, or become a thought leader? You can accomplish all of this in the right Groups when participating in the right way.
Here's a Bigger Excerpt from the Course Book:
Please read our Content Rules to see what you CAN and CAN NOT do with your content.