Our Customer-Focused Selling Online PLR eCourse is the perfect answer for people that are uncomfortable with the whole concept of selling. It is designed to change their mindset and walk them through all the important aspects of putting yourself in your customer's shoes – making it a natural process to persuade customers to buy your products or services.
The Customer-Focused Selling Online PLR eCourse contains the following:
[bcbox_course]
Introduction to the Modern-Day Marketer (526 words)
Expertise – The Key to Selling Online (655 words)
How to Put Yourself in Your Customers' Shoes (560 words)
Good Selling Is about Demonstrating and Educating (614 words)
Great Sales Copy without the Hype (554 words)
Storytelling in Marketing – How to Tell Your Story (552 words)
Social Proof – Why It Works and How to Use It (566 words)
Freebies and Giveaways – The Power of a Gift (524 words)
Triggering More Sales with Scarcity (546 words)
Repetition and Marketing – Why It Works (531 words)
[bcbox_tools]
Customer-Focused Selling Guide (complete course with cover page, table of contents, introduction and conclusion) – 28 pages
Course Workbook (includes all the worksheets plus places to complete the learning activities) – 16 pages
Course Overview, Objectives and Learning Activities
Graphic of Customer-Focused Selling concept (.ppt and .jpg)
10-Point Sales Letter Checklist (Make sure you have all of these in your sales letter)
Worksheet for Writing Your Story
10 Ideas for Freebies and Giveaways (548 words)
Course Component Outlines
Tips for How to Use Your PLR
Complete Customer-Focused Selling Online – PLR eCourse and Workbook: 
Only $27
£27.00Add to cart
Take a look at the course guide, workbook and graphic included with your PLR!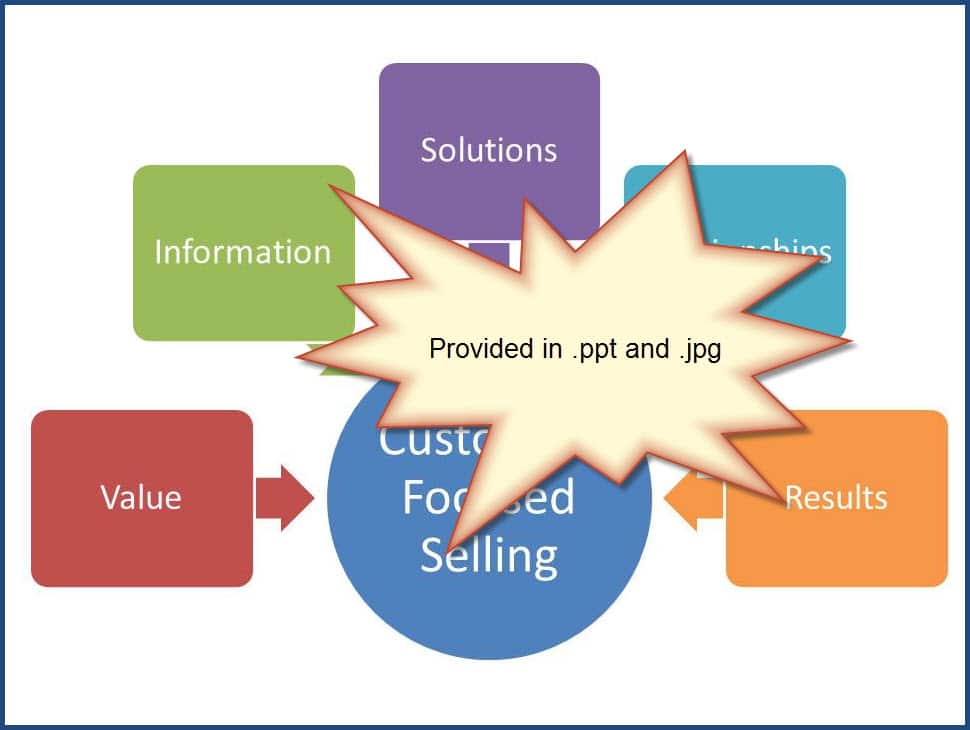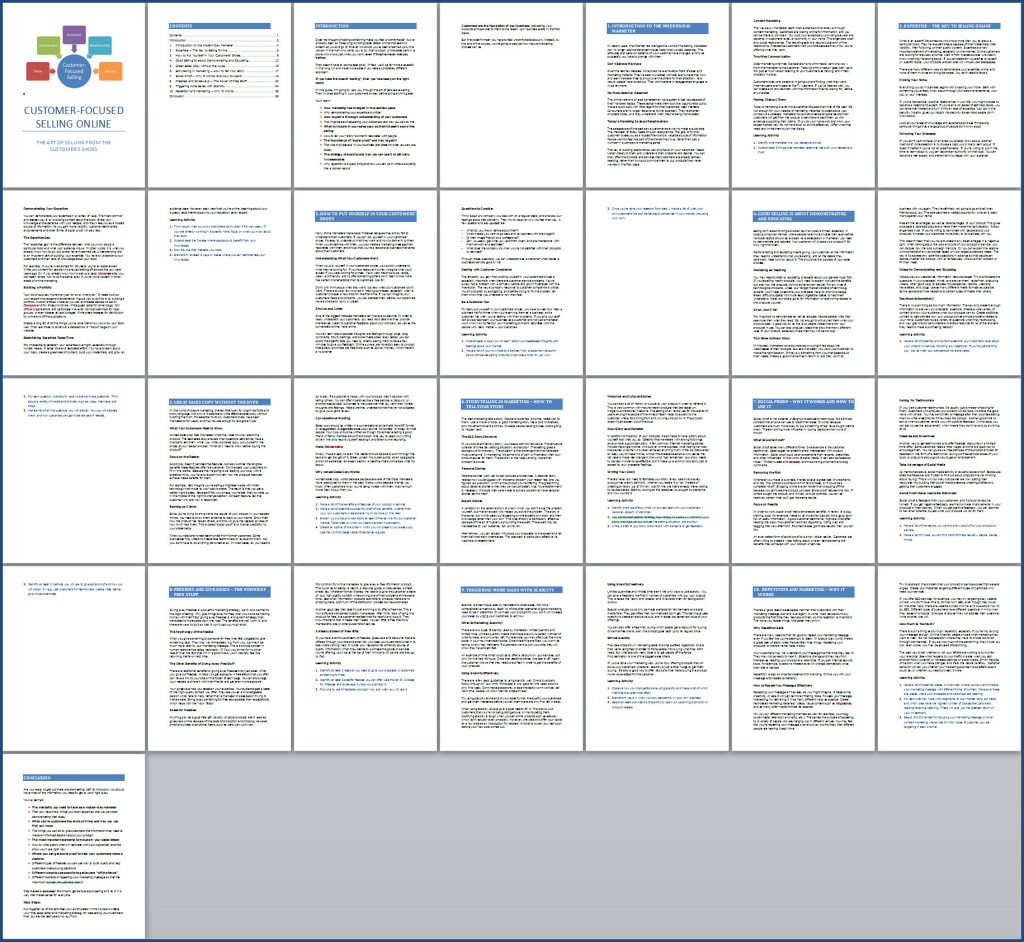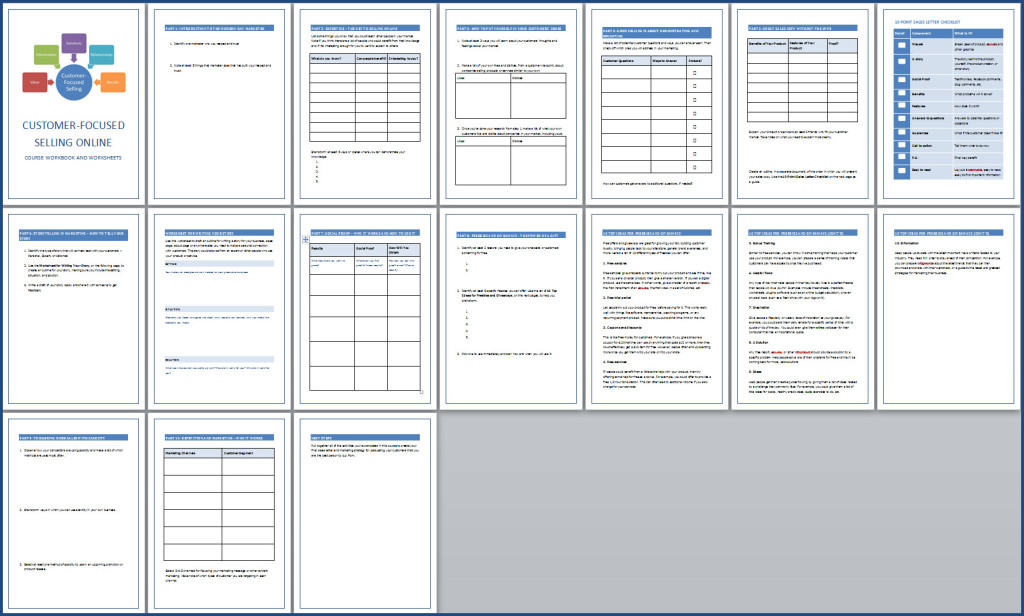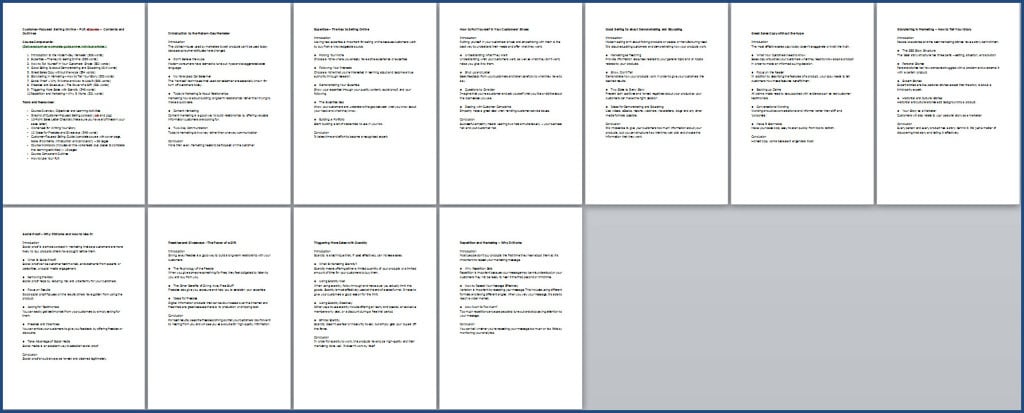 Content of the PLR ecourse is delivered as .txt and .doc.  Worksheets are in .doc. Graphic is in .jpg and .ppt..
[bcbox_usingplr]
Ideas for Using Your PLR:
Share the graphic on social media to promote your business, your products, and your brand to drive traffic to your website.
Share the graphic with customers as a handy resource and reminder.
Use the worksheets as free giveaways to build your list or build your relationship with your list.
Use as content on your blog for educating your readers.
Use the content as part of an autoresponder series that promotes an ebook or course, either your own or as an affiliate.
Customize and sell your own ecourse, using the tools included to help readers put what they learn into action.
Use sections of the content for an autoresponder series that pre-sells the entire pack, all combined as a paid ebook or course.
Use the outlines to create slides and then record those as videos to add to the course, or to drive traffic to your site via video sharing sites.
Use the outlines to rewrite the content and distribute on guest blogs and directories to establish yourself as an expert and drive traffic back to your site or to your own or an affiliate offer.
Hold a webinar or teleseminar and use the PLR content as a basis for creating your slides and script. Then follow up with paid coaching sessions that go into more detail about implementing what participants learned.
Add the content to your membership site.
Combine the content with other PLR to create an even larger course or series of courses.
Use snippets of the content as tweets to fill up your social media schedule or as tips of the day.
Use the content and tools for yourself with your clients or to learn more about this topic.
[bcbox_excerpt]
Want to see samples?  Here's a section from the "Good Selling Is About Demonstrating and Educating":
Selling isn't about forcing a product down anybody's throat. Especially in today's consumer market, where people have more choices than ever before, hard-sell tactics should be avoided. As a salesperson or marketer, you need to demonstrate and educate. Your customer will choose your product if it's truly right for them.

Demonstrating and educating means giving your customer all the information they need to understand what you're selling, and all the details they personally need to know about it. This should be the purpose of your sales process.

Marketing as Teaching

You may need to start by educating prospects about your general topic first. If you're selling health products, you'll need to explain not just the benefits, but also how the products work to achieve their results. For any type of technological products, unless your target market consists of technology experts, you'll need to assume your prospects have no prior knowledge. Break difficult subjects into more easily digestible pieces to help them understand. Make your site a go-to for information on everything related to the products you sell.
Complete Customer-Focused Selling Online eCourse: 
Only $27
£27.00Add to cart
Please read our PLR Rules to see what you CAN and CAN NOT do with your private label rights content.