100 Survival Tips For Small Business Owners is a report that contains tips to help businesses not only survive, but THRIVE in today's business world.
An excellent guide for both start-ups and established small businesses, online and offline, this report is an essential resource for your customers.
With tweets about business success, inspirational quote images, and a short informational slide show, we've also provided you with the tools you need to promote the report to your customers. Not to mention ecover graphics!
The Survival Tips for Business Owners Report contains the following:
[bcbox_report]
Know Your Customers 
Business Planning
Preparing for Disaster
Systems and Processes
Financial Survival Tips
Building a Support Network 
Monitoring the Market
Social Media and Online Reputation Management 
Time Management 
Stress Management 
[bcbox_tools]
100 Survival Tips For Small Business Owners – Report (The above chapters in a report format)
Slideshow – Top 10 Mistakes That Can Destroy Your Small Business
30 Tweets – Pre-written tweets on Small Business Survival Tips
10 Inspirational Quote Images
List of Essential Survival Resources
eCover templates (Variety of designs in editable 2D psd, ready to brand for yourself)
Instructions for Using Your New Content
Take a look at the what's included in your report package: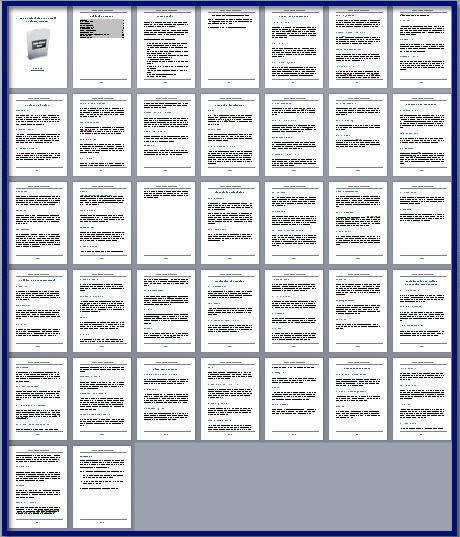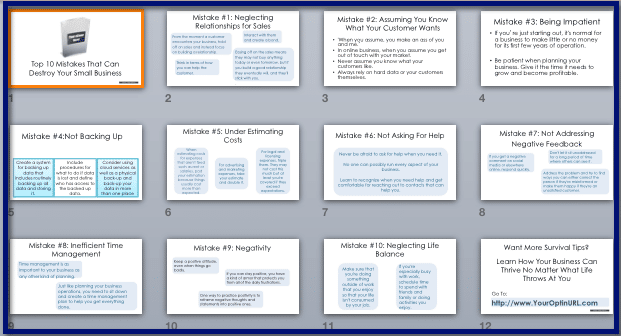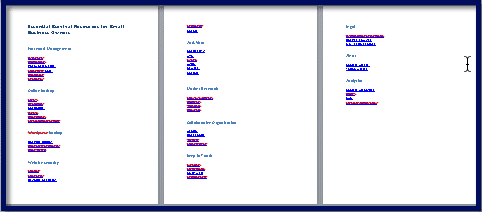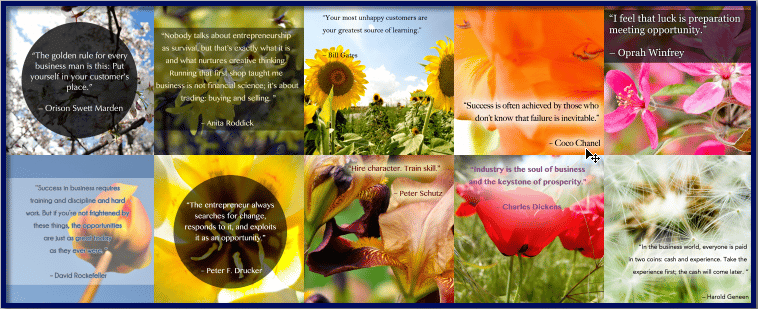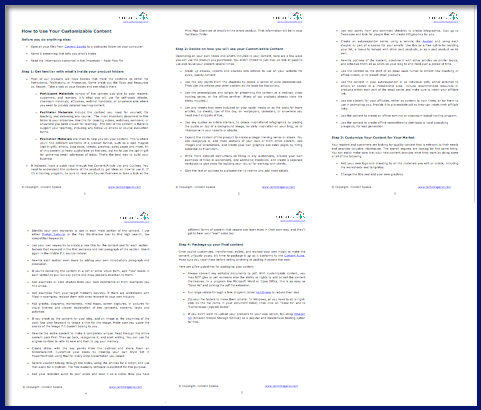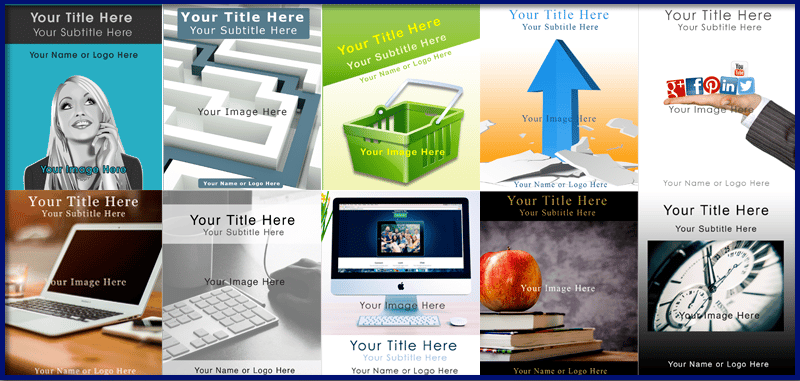 [bcbox_usingplr]
Other suggested uses for your Survival Tips for Business Owners Report:
Use the report out-of-the-box as a free giveaway to build your list or build your relationship with your list. Just change the website name and links in the report to your own.
Use as content on your blog for educating your readers.
Use the content as part of an autoresponder series that promotes an ebook or course, either your own or as an affiliate.
Create and sell your own ecourse, using any tools, checklists or worksheets to help readers put what they learn into action.
Use sections of the content for an autoresponder series that pre-sells the entire pack, all combined as a paid ebook or course.
Use any outlines included to rewrite the content and distribute on guest blogs and directories to establish yourself as an expert and drive traffic back to your site or to your own or an affiliate offer.
Hold a webinar or teleseminar and use the content as a basis for creating your slides and script. Then follow up with paid coaching sessions that go into more detail about implementing what participants learned.
Use any slides included to create videos and slideshows for promotion and generating traffic from video and slide sharing sites.
Add the content to your membership site.
Use any quotes or quote images included for social media, to start off emails and articles, or even on a calendar.
Use the content and tools for yourself to learn more about this topic.
[bcbox_excerpt]
Want to see samples from this report? Here's an excerpt from one chapter on Social Media and Online Reputation Management:
Stake Your Claims

Search for your business on all directory social media sites such as Google Places and Yelp. Claim your listing if you find it and make sure all of the information there accurately reflects your business. Work these business directory sites into your regular social media routine and keep an eye on them for new reviews.

Sign up for Social Media Alerts

Sign up for alerts on social media so that you know when people are talking about you or things related to your business. Some social media sites have features that allow you to sign up for alerts, and there are also online services that do it for you. You can also search many social media sites by hashtags.
Please read our Content Rules to see what you CAN and CAN NOT do with your content.